I am a Ph.D. student at the University of Wisconsin-Madison, majoring in computer engineering. My advisor is Prof. Younghyun Kim at the Wisconsin Embedded Systems and Computing (WISEST) Lab. I also actively work with Prof. Fawaz at WI-PI on various research challenges in the security & privacy of IoT and human-centered applications. My page at WISEST Lab can be accessed through this link.
Living with my childhood dream, I enjoy inventing, designing, and building 'future gadgets' that serve user needs by unconventional computing techinques and devices.
Featured Research
Privacy-Enhancing Technique for Eye Tracking in Mixed Reality
We are seeking to bridge the gap of user privacy in human-centered sensing. Eye tracking enables a more immersive experience for today's user interface, while its rich information is exposed, inducing privacy concerns about users' interest, health, identity, etc. Through the on-going project, we are exploring the opportunity to design real-time privacy control knob for eye-tracking in mixed-reality.
Project Velody: Resilient User Authentication by Nonlinear Vibration
We developed a novel solution, Velody, for user authentication in smart homes using unique vibration responses from users' hands. Thanks to the nonlinear properties in hand-surface vibration, Velody can generate a large number of secret keys resilient to various attacks and accurately authenticate users in less than one second. This work is presented at ACM CCS 2019.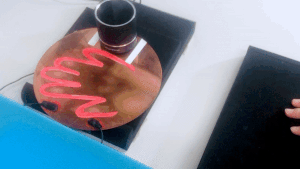 Li, Jingjie, Fawaz, Kassem and Kim, Younghyun, 2019, November. Velody: Nonlinear Vibration Challenge-Response for Resilient User Authentication. In Proceedings of the 2019 ACM SIGSAC Conference on Computer and Communications Security (pp. 1201-1213).
[Project] [PDF]
Publication
Conference
Approximate Hardware Techniques for Energy-Quality Scaling Across the System
Younghyun Kim, Joshua San Miguel, Setareh Behroozi, Tianen Chen, Kyuin Lee, Yongwoo Lee, Jingjie Li, Di Wu
International Conference on Electronics, Information, and Communication (ICEIC), 2020
MicPrint: Acoustic Sensor Fingerprinting for Spoof-Resistant Mobile Device Authentication
Yongwoo Lee, Jingjie Li, Younghyun Kim
EAI International Conference on Mobile and Ubiquitous Systems: Computing, Networking and Services (MobiQuitous), 2019
Velody: Nonlinear Vibration Challenge-Response for Resilient User Authentication
Jingjie Li, Kassem Fawaz, Younghyun Kim
ACM Conference on Computer and Communications Security (CCS), 2019 (Acceptance Ratio: 16%)
Detecting Personality Traits Using Eye-Tracking Data
Shlomo Berkovsky, Ronnie Taib, Irena Koprinska, Eileen Wang, Yucheng Zeng, Jingjie Li, Sabina Kleitman
ACM CHI Conference on Human Factors in Computing Systems, 2019 (Best Paper Award)
SAADI: A Scalable Accuracy Approximate Divider for Dynamic Energy-Quality Scaling
Setareh Behroozi, Jingjie Li, Jackson Melchert, Younghyun Kim
ASP-DAC (Asia South Pacific Design Automation Conference), 2019
Continuous and Wireless Skin Contact and Ear Implant Temperature Measurements and Relations to the Core Body Temperature of Heat Stressed Dairy Cows Hanwook Chung, Jingjie Li, Younghyun Kim, Christopher Y. Choi
ASABE ILES (International Livestock Environment Symposium), 2018
Journal
Personality Sensing: Detection of Personality Traits Using Physiological Responses to Image and Video Stimuli
Ronnie Taib, Shlomo Berkovsky, Irena Koprinska, Eileen Wang, Yucheng Zeng, Jingjie Li
ACM Transactions on Interactive Intelligent Systems (TiiS), 2020 (Accepted)
SAADI-EC: A Quality-Configurable Approximate Divider for Energy Efficiency
Jackson Melchert, Setareh Behroozi, Jingjie Li, Younghyun Kim IEEE Transactions on VLSI Systems (TVLSI), 2019
Honor and Award
Chancellor's Opportunity Fellowship (COF), UW–Madison -2019
Qualcomm Innovation Fellowship 2019 Finalist -2019
Foxconn "Smart Cities-Smart Futures" Competition Final Winner (Team Leader) -2019
ISLPED Low-Power Design Contest Award, International Symposium on Low Power Electronics and Design -2018
A. Richard Newton Young Student Fellowship -2018
ANU College of Engineering & Computer Science Undergraduate International Partnership Scholarship -2015, 2016
Second Prize Scholarship for Outstanding Student, BIT -2015
Second Prize Scholarship, BIT -Semester 2, 2014/2015
First Prize Scholarship, BIT -Semester 1, 2014/2015
Second Prize Scholarship, BIT -Semester 2, 2013/2014
First Prize Scholarship, BIT -Semester 1, 2013/2014